Addressing housing, learning spaces, and early childhood needs in the community - intentionally and responsibly.

1: Staff housing project moving forward.
MDSD has selected an architectural firm to assist in the development of housing. This will allow the district to focus on recruiting and retaining great staff. Pivot North was selected out of a pool of 7 firms that submitted for the job. They will work with the Land Group and MDSD for the design and construction of the housing project.

2: Donnelly Elementary project continues to progress forward.
The new library space is nearly completed, and the front office area is seeing good progress. The new gym space is ahead of schedule. The new multipurpose space that will also be the lunchroom is slotted to be completed by the end of October. Our new Entryway has started to take shape as well. Several components of the project will be completed this fall, while other parts are scheduled to be ready for the following school year.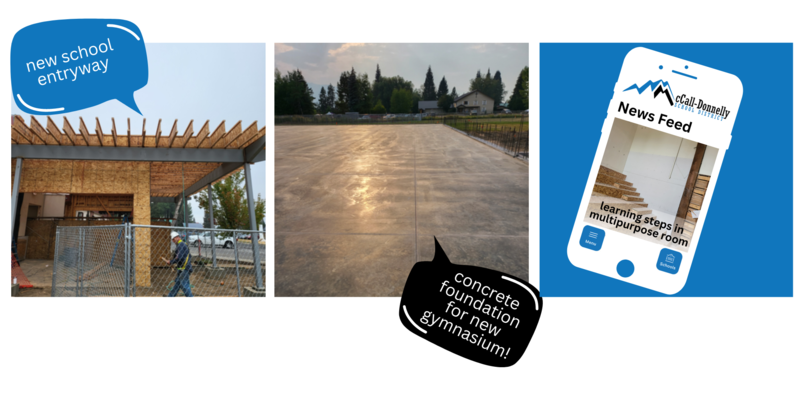 3: MDSD purchases new space for District Office and Early Childhood center
With construction costs skyrocketing the district has chosen to purchase an existing building rather than build new; thus saving nearly a million dollars in construction costs, and opening up learning opportunities for Early Childhood. The District Office will move from 120 Idaho Street to 299 S. 3rd Street as will all district services which will free up much-needed space at other school buildings. In addition, the newly purchased building will provide space to expand MDSD's current early childhood services. MDSD is focused on ensuring the communities we serve have enough daycare and adequate preschool services for children. Besides the "littles," high school students will also benefit from the expanded learning space and opportunities the purchased building provides. MDSD plans to offer an early childhood CTE program so that students may earn credit and much-needed, real-world experience in the early childhood education field.

MDSD Board Meeting Briefs are general summaries of actions occurring at school board meetings we'd like to bring to our school community's attention. We hope you will look for these articles and feeds to come later in the week following regularly scheduled meetings on the 2nd Monday of each month. Official meeting minutes can be found here.